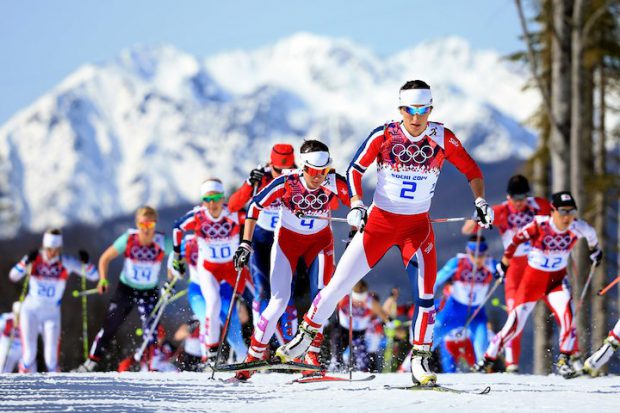 2017-2018 Wednesday Night Fun Race Series
Defined: cross′-coun`try ski′ing
the sport of skiing across open country, often through woods, using narrow skis with boots that can be raised off the ski at the heel when striding.
Wednesday Night Fun Race Series from WWW.POKYXC.ORG, your source for local Nordic skiing
There is no better reason to leave work early and watch the sun set on Scout Mountain while racing or touring around our beautiful trails. The air is fresh and the yurt is warm.
Please join us even if you don't ski. For those that do not have classic and skate skis bring what you have (or snowshoes). There are no age or ability restrictions or any race fees but a trail pass is required (reduced rate of $3 for each Fun Race/Tour). Students may participate without a trail pass.
This year's food-theme request was for US regional fare plus our traditional honorary nod to the 2018 Winter Olympics. The 2018 PXCSF Fun Race Series is dedicated to peace in the Korean Peninsula, good skiing and good food.
| | | | | | |
| --- | --- | --- | --- | --- | --- |
| Date | Dinner | Fun Race | | Time | |
| 12/20/17 | Beer | 5K  Skate | | 4:30 | Beer |
| 1/1/2018 | Cookies and Hot  Chocolate | 10K/10K Pursuit | | 12:00 | Cookies |
| 1/17/18 | New England | 5K Classic | | 5:00 | New England |
| 1/31/18 | Southwestern US | 5K  Skate | | 5:00 | Southwest |
| 2/14/18 | PyeongChang | 5K Classic | | 5:15 | South Korean |
| 2/28/18 | Southern US | 5K  Skate | | 5:30 | Down South |
| 3/7/2015 | Polyester | Hill Climb | | 5:45 PM | BBQ |
New Year's Day Pursuit Video #1 Skate
Old Mexico night at the Fun Race Video January 21st, 2015 (it's all about the food)
1-Jan-2015 fun race pursuit results
March 2014 Pictures
Check out Todd Nunan's video featuring Olympic Nordic Combined skiers  Bryan Fletcher and Billy Demong: